StarShield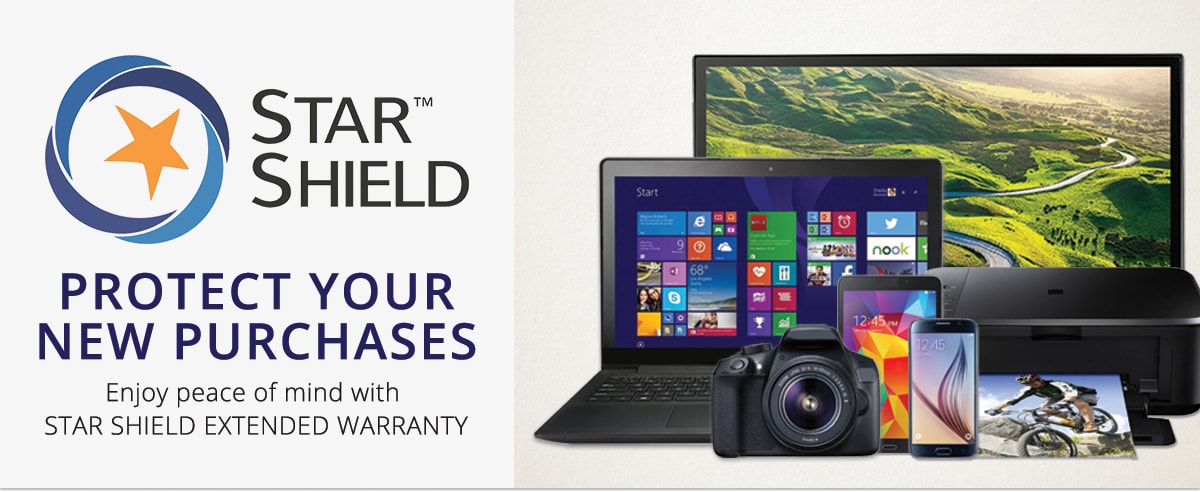 Star Shield @ Challenger Outlets:
AMK Hub, Bugis Junction, Causeway Point, Compass One, JEM, Jurong Point, NEX, Plaza Singapura, Tampines One
FREE Health Check on: CPU, GPGPU, RAM, Graphic Card, Temperature, Sound and Removable drives.
---
SPECIAL PURCHASE-WITH-PURCHASE OPTION FOR NOTEBOOK AND PC
Star Shield Extended Warranty (SSEW)
Our Extended Warranty Plans increase protection to the life of your product by adding additional years of coverage. We will provide an extended coverage solution when your product fail after the standard manufacturer's warranty.
Why should I get a SSEW?
Most manufacturer's warranty only covers your product for one year from the date of purchase, after which any repair costs is the owner's responsibility. Purchasing an SSEW adds additional coverage of 1-2 years beyond the manufacturer's warranty, protecting your products over a longer period!
Comprehensive Coverage
When your product breaks down, SSEW provides a complete repair, covering labour and parts such as: Motherboard/HDD/Graphic Card/PSU/RAM/Monitor/Screen etc. If your product is deemed beyond repair, SSEW covers a *Free Replacement* or another similar product of equivalent value.
Coverage Duration
Star Shield Extended Warranty covers products with at least 1 year (12 months) to a maximum of 3 years (36 months) of manufacturer's warranty. Star Shield Extended Warranty offers coverage of 1 to 2 years (12-24 months), i.e. additional 12 to 24 months beyond manufacturer's warranty.
The Largest Network of Repair & Extended Warranty Provider in Singapore
With a total of 10 Outlets island wide, our certified technicians will provide on-the-spot diagnostic of your product, ensuring you receive the quickest support and minimize your downtime
Value for Money
SSEW coverage value will be equivalent to the Purchase Price of your product, valid throughout the coverage period. For complete terms and conditions please visit at Starshield.sg
The Star Shield inside Challenger is opened daily during store operating hours to assist you.
We will advise you on the charges upfront to put you at ease - no matter where you purchased your hardware or software. ValueClub members get to enjoy special discounts off the normal published rates.
Repair services operated under Star Shield are available daily (including Public Holidays) at the following locations:
Plaza Singapura: 11.00am - 7.00pm
AMK Hub, Bugis Junction (Flagship Store), Causeway Point, Compass One, JEM, Jurong Point, NEX & Tampines One: 1:00pm - 9:00pm