Bid With Me Auction Guide
Log in / Sign up
The Hachi.tech auction offers participating members the chance to win attractive electronic and lifestyle gadgets on a wide range of products. Here is a quick guide to help you get started!
To participate in the auction, all members are required to log in or sign up for a Hachi.tech membership. Place a bid price in accordance to the number of chances you want to buy the product, and the bid price that you are willing to pay for the item.
Have an active Challenger ValueClub membership? Click HERE to activate your one-time free Hachi.tech account NOW!
Before you start bidding, here is a gentle reminder that the Bid With Me Auction is created for members and friends to have fun in a fair environment. Those with the intention to cheat will not be entertained (in the worst-case scenario, your account may be banned).

The Bidding Process

Step 1:
After you have placed your bid, click the button 'Bid With Me' to reveal your unique auction ID and share it with your friends. The more, the merrier!


Step 2:
When your friends enter the auction page via your unique auction link, they will simply need to key in their email address to join in the auction bidding fun!

Step 3:
After your friends successfully place a bid, the amount they bade for the item will be added onto your original bid value. E.g. If you bade for an item for $20, and your friend bade for it for $5, you will get 25 chances in total.
Step 4:
Check for the total number of chances you have after your referred friends have placed their bids under the 'Auction History'. You will also be able to see who has joined you in placing bids for the gadget at any time!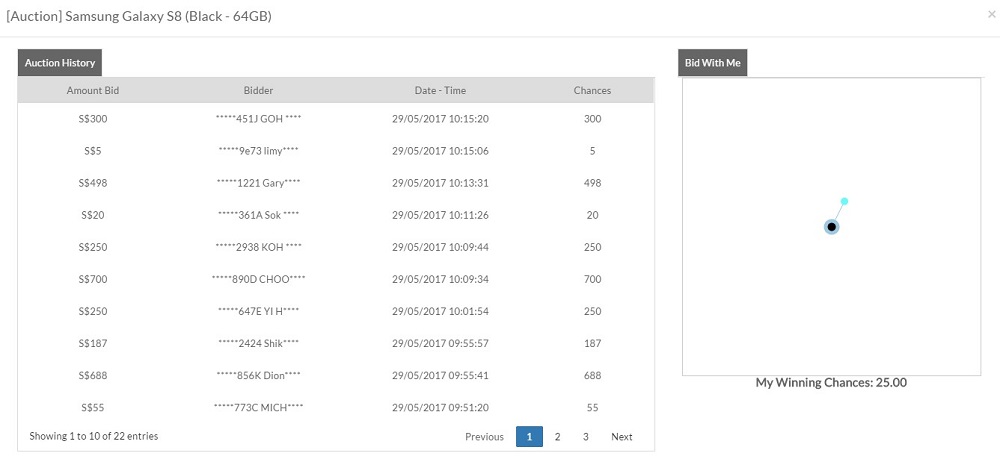 Step 5:
The winning bidder will be randomly selected after 2 working days, and will be informed via an automated email to make payment at the bid amount within 48 hours. The price you pay for the item will be your original bid.
In the event that no payment is received after 48 hours, the auction product will be forfeited.
Notes:
Hachi.tech rebate will not be awarded for any products won and paid for from the auction.
Hachi.tech rebate and coupon codes cannot be utilised for the payment of the auction product.
By submitting your email address to Hachi.tech's Bid With Me auction, you consent Hachi.tech to send you any marketing materials (whether by post, text, voice call, email or otherwise).
Wondering how the Auction Winner is picked? Here's a quick video to show you the process!